Welcome
PAGE UPDATED ON March 27th, 2021
Announcements - In Reverse Chronological Order
2021 EVENTS IN REVERSE CHRONOLOGICAL ORDER:
The 2021 MAPSS Annual Meeting minutes will be voted on for approval in 2022. The updated 2020 Treasurer's report can be reviewed.
An abbreviated MAPSS 2021 Annual Meeting was held via Zoom on Thursday, March 25th from 3:00 to 4:30 pm. A quorum of full members was present (at least 18 full members) and voted on scholarship and Envirothon donations and other association business. Please review the Agenda. The Envirothon request for 2021 can be read here.
---
The Executive Committee slate of officers (although nominations are open up until the vote):
PROPOSED SLATE for 2021

President: Christopher Dorion
Vice President: Roger St. Amand
Secretary: Sean Donohue
Treasurer: Gary Fullerton
Past President: David Marceau
Director: Natalie Marceau
Please review the 2020 Treasurer's report. The membership will be asked to approve this.
---
February 9th, 2021 Executive Committee Zoom meeting minutes. Please download and carefully read through.
---
Wetland scientist position open and
---
A field workshop is planned for Wednesday, September 8th, 2021. The focus will be on landscape geomorphology, soil morphology, understanding parent materials, and hydric soil descriptions. The MAPSS Technical Committee will locate a site with a variety of parent materials. Lidar will be presented to gain an understanding of the glacial geologic imprint on the area. Excavator dug soil pits will be available for discussion. An emphasis on describing hydric soils will be included.
---
Faster HSG lookup method using WSS for 1) soil horizons of a typical soil series; 2) associated depths; 3) Ksat Low-Rv-High values. This is a 13.3 M 12 page PDF instructional manual developed by MAPSS with significant assistance from NRCS.
---
Newsletter editor sought. The Lay of the Land biannual newsletter is seeking an editor. Editorial tasks include soliciting articles affecting MAPSS, events in northern New England related to soils, and other relevant soil related news. The second task is compiling the newsletter; past issues have used MS Word and converted to a PDF for electronic distribution to the membership and affiliated organizations. If interested, please contact MAPSS President Christopher Dorion .
Recognizing Dave Rocque accepting his award at our annual meeting on Thursday, March 24th, 2016 at Bates College, in Lewiston.
---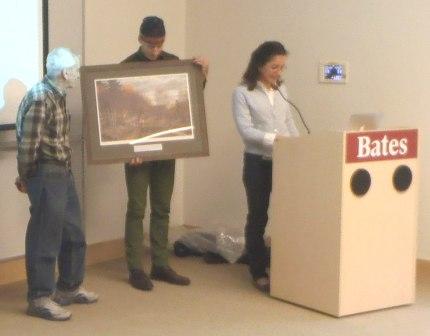 Dave Rocque Recognition Day at 2016 MAPSS Annual Meeting. From left to right Dave Rocque, Chris Dorion, and Johanna Szillery
---
| | |
| --- | --- |
| | We would like to recognize the accomplishments durring the International Year of Soil of 2015 and have left this link to view all the great activities that occurred. |
---
You will be pleased to learn that the Maine Legislature passed a Joint Resolution Recognizing The Importance Of Soils To Maine's Future Prosperity on March, 16th!
---
A new link has been added to the left navigation pane: "Current Issues Before MAPSS". This link addresses continuing efforts by MAPSS on several fronts related to regulatory, scientific, or of long term interests to members of the soil science community.
---
Please use the link in the left navigation window "Past Events & Workshops - RESULTS (Write-ups, Comments, and Photos Albums are HERE)" to access MAPSS' archives of past workshops, meetings, and conferences.
---