Welcome
|PAGE UPDATED ON March 21st, 2018|
Announcements - In Reverse Chronological Order
2018 EVENTS IN REVERSE CHRONOLOGICAL ORDER:
MAWS Annual Meeting & Winter Conference will be held March 22nd, Starting times include: Registration at 7:45am, the Conference at 8:30am, and the Annual Meeting at 3:30pm.
---
2018 Soil Matters Conference will be held on April 4th at the Audubon Center in Concord, NH. To view click here.
---
The 2018 Winter Newsletter is now available, to view click here.
---
Don't forget to sign up and mail your checks out for the 2018 Annual Meeting at Unity College on March 7th, registration can be downloaded here. The Agenda has also been Updated and is available here.
---
The 2018 Annual Meeting is set for Unity College on March 7, 2018. To Register click here.
---
The 2017 annual treasury report is available here.
---
Happy World Soil Day! The Global Soil Partnership (GSP) is celebrating today to the theme "Caring for the Planet starts from the Ground". More information click here.
---
State of Maine Agricultural Trades Show, Jan. 9-11, 2018, Augusta. More information click here.
---
Recognizing Dave Rocque accepting his award at our annual meeting on Thursday, March 24th, 2016 at Bates College, in Lewiston.
---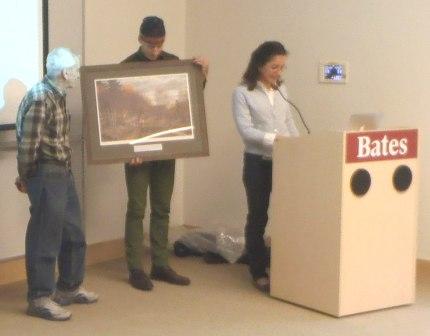 Dave Rocque Recognition Day at 2016 MAPSS Annual Meeting. From left to right Dave Rocque, Chris Dorion, and Johanna Szillery
---
| | |
| --- | --- |
| | We would like to recognize the accomplishments durring the International Year of Soil of 2015 and have left this link to view all the great activities that occurred. |
---
You will be pleased to learn that the Maine Legislature passed a Joint Resolution Recognizing The Importance Of Soils To Maine's Future Prosperity on March, 16th!
---
A new link has been added to the left navigation pane: "Current Issues Before MAPSS". This link addresses continuing efforts by MAPSS on several fronts related to regulatory, scientific, or of long term interests to members of the soil science community.
---
Please use the link in the left navigation window "Past Events & Workshops - RESULTS (Write-ups, Comments, and Photos Albums are HERE)" to access MAPSS' archives of past workshops, meetings, and conferences.
---