Welcome
PAGE UPDATED ON January 6th, 2021
Announcements - In Reverse Chronological Order
2021 EVENTS IN REVERSE CHRONOLOGICAL ORDER:
Faster HSG lookup method using WSS for 1) soil horizons of a typical soil series; 2) associated depths; 3) Ksat Low-Rv-High values. This is a 13.3 M 12 page PDF instructional manual developed by MAPSS with significant assistance from NRCS.
---
Newsletter editor sought. The Lay of the Land biannual newsletter is seeking an editor. Editorial tasks include soliciting articles affecting MAPSS, events in northern New England related to soils, and other relevant soil related news. The second task is compiling the newsletter; past issues have used MS Word and converted to a PDF for electronic distribution to the membership and affiliated organizations. If interested, please contact MAPSS President Christopher Dorion .
The 2020 MAPSS - MAWS - MASE Soils and Natural Resource Field Workshop was held at Reid State Park in Georgetown, Maine on Wednesday, September 9th, 2020. The Curriculum and types of sites for meeting attendees to inspect and make their determinations and the Registration and information form can be downloaded. New this year will be the recent changes to WOTUS (Waters Of The United States) administered by the ACOE and how this may impact stream and wetland determinations from last year.
The hourly agenda schedule must be carefully reviewed so we can all comply with State CDC regulations regarding Covid-19.
Continuing Forestry Education (CFE) credits for Category 1 CFE's for 6 hours were be granted by SAF.
---
NRCS has exercised the ability to hire outside USDA to get more qualified soil scientists, which hasn't happened much in the last decade. They are doing it now:
Direct Hire
There are many USAJOBS vacancy announcements for NRCS that will be filled using the Office of Personnel Management's (OPM) Direct-Hire Authority. Veterans' preference and traditional rating and ranking of applicants do not apply to positions filled under this announcement. For more information on OPM's authorization of Direct Hire Authority, please visit OPM . Please note that the closing application date for these Direct Hire positions is July 15, 2020.
---
Regulatory guidance for soil criteria for site specific determinations for Prime Farmland and Farmland Soils of Statewide Importance is posted here. USDA definitions of surface stoniness class p.141-142 (Soil Science Division Staff, 2017, Soil Survey Manual: C. Ditzler, K. Scheffe, and H. C. Morgan (eds.), USDA Handbook 18, Government Printing Office, Washington, D. C.).
---
Here is the Lay of the Land winter, 2020 newsletter.
---
Here is the 2019 Piscataquis County Soil and Water Conservation District Annual Report.
---
Munsell notation correction Xrite, successor company to Munsell, was contacted about a discrepancy between the 1994 and 2009 editions on the 2.5Y page. After some checking, the company acknowledged that a mistake had been made and that the color names for chips 2.5Y 7/3, 7/4, 8/2, 8/3, and 8/4 should in fact be pale yellow, not pale brown. It is not known when an official update of the 2.5Y page will be issued. Please make a pen and ink correction on the 2.5Y page to change "pale brown" to "pale yellow."
---
Here is the link to Version 4 of Field Indicators for Identifying Hydric Soils in New England. Additional links to the Version 4 Companion Guide, the Supplement 1 (Cheatsheet), and the Memo from USACOE on use of Version 4 for Chapter 5 situations.
---
Executive Committee Meeting of Friday, November 22nd, 2019 was held at the Deering Agricultural building in Augusta. Meeting minutes are now uploaded to the Meeting Minutes directory.
---
Here is the Lay of the Land summer, 2019 newsletter.
---
The National Cooperative Soil Survey (NCSS) May, 2019 newsletter features an article on HSG determination by MAPSS Technical Committee Chair Tony Jenkins. Article begins on page 18 and the PDF can be downloaded here.
---
A step by step visual guide to using Web Soil Survey (WSS) can be downloaded in PDF format here. This is needed to start the field derived methodology for HSG determinations.
---
Here is the Hydrologic Soil Group (HSG) field determination methodology which was approved by the MAPSS membership at the Annual Meeting on March 13th, 2019. This methodology had a minor revision in December, 2019. A visual guide to Web Soil Survey is linked above.
---
Job Vacancy Posting - Wetland Scientist position open at Tetra Tech Link here to apply.
---
Job Vacancy Posting - Cartographer for the DEPARTMENT OF INLAND FISHERIES & WILDLIFE Office located at 284 State Street 41 State House Station, Augusta, ME 04333 Link here to apply.
---
Here is the Lay of the Land winter, 2019 newsletter.
---
The MAPSS Ad Hoc Affiliation Committee revised meeting minutes from the February 4, 2019 meeting with SSSNNE are completed.
---
For MAPSS members wishing to join the Society of Soil Scientists of Northern New England (SSSNNE), the membership form can be downloaded.
---
A Stream Monitoring Internship is available through Friends of Acadia. Please link here to view the application.
---
Replace your old Field Indicators Version 3 with the new updated Version 4.0 Link here
---
Recognizing Dave Rocque accepting his award at our annual meeting on Thursday, March 24th, 2016 at Bates College, in Lewiston.
---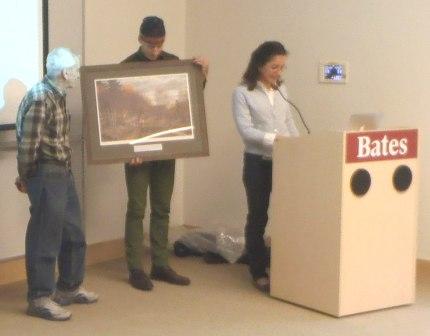 Dave Rocque Recognition Day at 2016 MAPSS Annual Meeting. From left to right Dave Rocque, Chris Dorion, and Johanna Szillery
---
| | |
| --- | --- |
| | We would like to recognize the accomplishments durring the International Year of Soil of 2015 and have left this link to view all the great activities that occurred. |
---
You will be pleased to learn that the Maine Legislature passed a Joint Resolution Recognizing The Importance Of Soils To Maine's Future Prosperity on March, 16th!
---
A new link has been added to the left navigation pane: "Current Issues Before MAPSS". This link addresses continuing efforts by MAPSS on several fronts related to regulatory, scientific, or of long term interests to members of the soil science community.
---
Please use the link in the left navigation window "Past Events & Workshops - RESULTS (Write-ups, Comments, and Photos Albums are HERE)" to access MAPSS' archives of past workshops, meetings, and conferences.
---